Two species of fire ants roam in Florida; there is the red imported fire ant and the native fire ant (S. geminate). Red imported fire ants are the most commonly seen and controlled. In the 30's a cargo ship accidentally brought these ants into Alabama. Regardless of the species of fire ant, they are all dangerous and considered to be a major nuisance in Florida. Fire ants are very intricate pests with a structured colony. A colony will consist of the queen or queens, worker ants, and the young.
Research has proven that there are two kinds of fire ant mounds/ colonies. A smaller colony of fire ants may consist of a single queen ant and the larger colonies will have more than one queen. The mound that has multiple queens obviously will have a larger population because the queens are the one that birth the larvae. In a single acre of land of an average of 200 mounds of multiple queen fire ant colonies, there will be approximately 40 million fire ants! The size of a colony of fire ants makes extermination challenging. Reynolds Pest has been trusted for the last 20 years for abolishing fire ants. Each exterminator on Reynolds Pest's team is certified and experienced in the handling of all species of fire ants.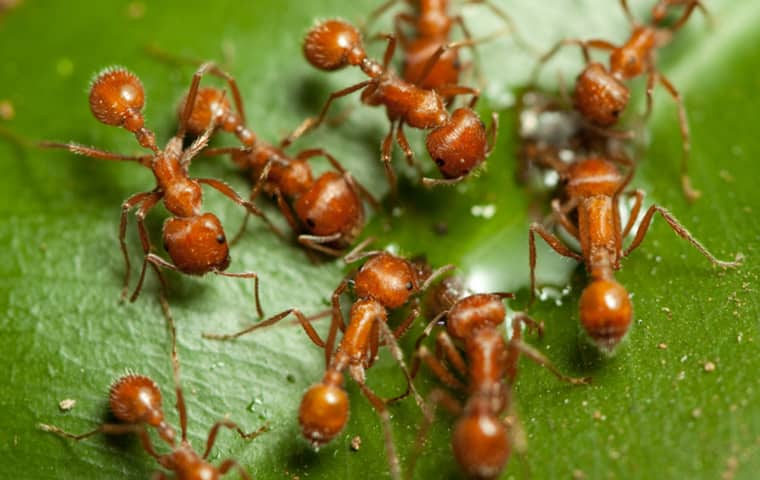 Fire Ant Protection
Reynolds Pest management, Inc. offers residents an excellent fire ant program that can completely abolish all fire ants from their surroundings. Have Reynolds Pest inspect your home to locate all fire ants and receive a no-obligation estimate.
Customers have stuck with Reynolds Pest for many years for the superb service and additional programs.
Reynolds Pest can provide you with a program to boost the health of your lawn. This is a popular addition to our fire ant program!
Rid Your Yard Of Fire Ants
You can trust Reynolds Pest to abolish your environment from all fire ants and keep them from re-infestation. Stay alert to the pests that may come into your home or yard. Here's a list of a few other pests we encounter in Stuart: carpenter ants, spiders, ticks, and more!
About Stuart, Florida
Stuart, FL is the only city in Martin County, Florida, on Florida's Treasure Coast. The population was 14,633 at the 2000 census. As of 2007, the population recorded by the U.S. Census Bureau is 15,964. The city of Stuart is known as the Sailfish Capital of the World. Stuart has beaches, an old-fashioned historic town, sidewalk cafes, and the historical Lyric Theater. These are just some of the facilities and resources that Stuart has to offer.
Why Hire Reynolds Pest Management, Inc.?
Reynolds Pest has been a well established company since 1991; Insured, Bonded, & Licensed.

Reynolds Pest has the best results due to utilizing only the top-quality pest products.

References are available upon request.

We encourage our customers to be aware of their pest problem which is why we will provide you with all details prior to treatment.
Become part of the family at Reynolds Pest and receive affordable pricing and excellent results. Contact us today to have a pest-free home!
Request Your Free Inspection
Complete the form below to schedule your FREE inspection today!