What Does Your Attic Have To Do With Pest Control?
When it comes to pest infestations, your attic is one of the most vulnerable locations of your home. When looking for a place to invade, rodents often choose attics as nesting locations due to their secluded location, access to your home's main living areas, and abundance of nesting materials. Once they find their way inside, they will not only chew up insulation, wiring, pipes, and other items stored in your attic space, but they will also leave urine and feces behind, creating an unsafe environment inside your home.

At Reynolds Pest Management, we offer several attic services as a next step service after rodent removal and exclusion. Leaving your attic in the condition that those invading rodents left it in can be a major threat to your family. Not only can exposed wires become a fire hazard, but chewed pipes can cause water damage, which may lead to mold issues and sometimes even flooding! In addition, the urine and feces they leave can cause serious health problems for your family if not removed. For these reasons, cleaning up your attic after a rodent infestation is an essential part of the rodent removal process. Luckily, Reynolds Pest Management offers services to help you accomplish that task!
Our Attic & Insulation Offerings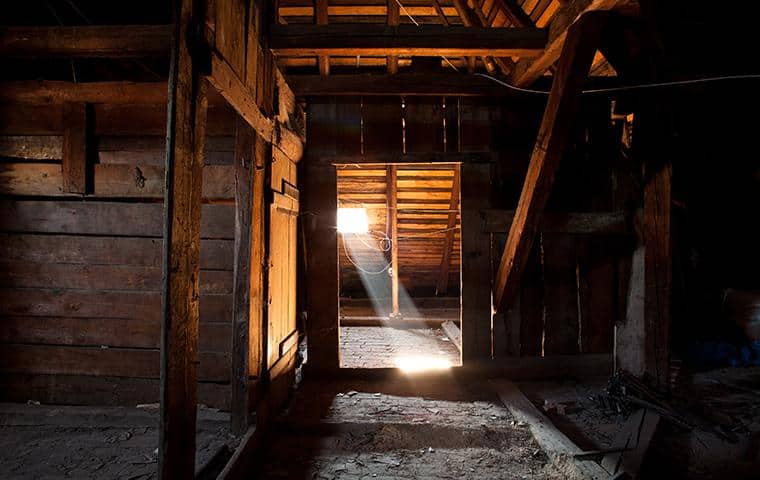 Attic Cleaning Services
Here at Reynolds Pest Management, our attic cleaning services sanitize your attic, neutralizing the threat of the urine and feces left behind by rodents. Additionally, we use the safest cleaning products available to leave you with a deeply-cleaned attic and clean air circulating throughout your home.
Insulation Removal
As part of our attic cleaning service, we will also remove any contaminated insulation. Any insulation that has come in contact with rodent urine or feces must be removed to protect the health and wellness of your family.

We have the proper equipment to safely remove contaminated insulation and debris left behind from the insulation as well as to sanitize the affected area.
Insulation Installation
At Reynolds Pest Management, we also offer insulation installation services. Once the contaminated insulation is removed, it will need to be replaced, making this the perfect time to install our pest control insulation for your home. For more information about how our attic cleaning and insulation services could benefit your home, reach out to us!
Why Choose Reynolds For Your Insulation Needs?
Safe. We use a loose cellulose insulation that contains boric acid which is harmless to humans, but lethal to the pests that consume it and is also fire-retardant.

Cost-effective. Our insulation is energy-efficient, saving you up to 30-35% on your utility bills in addition to eliminating pest invaders after installation.

Affordable. Our insulation is the same price as other, non-pest control insulations, making your choice of which insulation to utilize in your home an easy one!
Request Your Free Inspection
Complete the form below to schedule your FREE inspection today!