Don't Let Mosquitoes Ruin Your Time Outdoors!
Nothing ruins an evening spent enjoying your backyard faster than a swarm of hungry mosquitoes buzzing around your head and leaving behind itchy bites on your skin. But not only are these pests annoying, they are also dangerous! In fact, millions of people contract mosquito-borne diseases every year and, while most cases here in the United States are treatable, some result in serious illness and sometimes even death. The mosquitoes found here in Florida have been known to carry a number of dangerous diseases including malaria, West Nile virus, Zika virus, Eastern equine encephalitis, and more. If you'd like to ensure that your time spent outdoors is free of frustrating encounters with mosquitoes and protect yourself and your family from the harmful mosquito-borne illnesses they spread, the team here at Reynolds Pest Management can help!
Mosquito Reduction & Prevention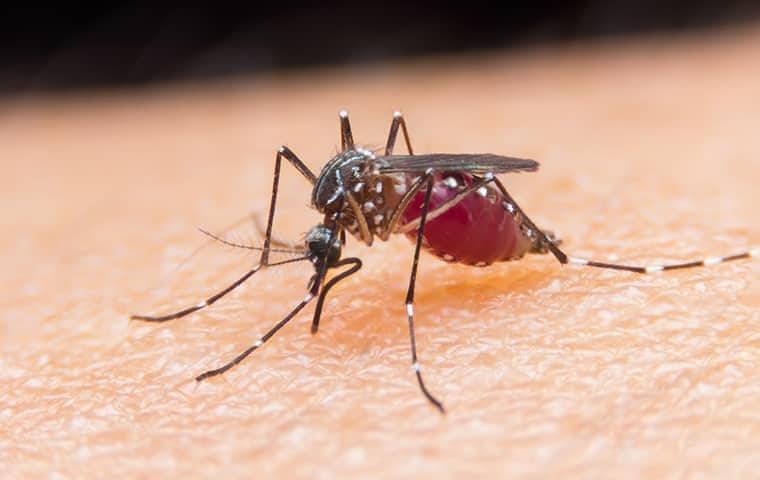 Since our opening in 1991, Reynolds has been providing South Florida residents with professional mosquito control to reduce the threat of these dangerous pests. We also offer several treatment options based on your individual needs!
Initial Mosquito Inspection
Before deciding on the best treatment option for your particular situation, one of our professional pest control technician will conduct an inspection of your property to better understand the severity of your mosquito problem. This will help us to determine which mosquito control program will best suit your needs.
Backpack Misting
For less severe mosquito problems, we offer a backpack misting treatment program. Our backpack misting machines work to eliminate adult mosquitoes for up to two months after treatment. In addition, this service uses only EPA-approved mosquito control products to ensure safe and effective application.
Centralized Mosquito Misting
For a longer-term solution, Reynolds' centralized mosquito misting program may be right for you. With this treatment option, our technicians will install nozzles in strategic locations around the perimeter of your home. Two to three times a day, a fine mist of EPA-approved product will be sprayed automatically to eliminate mosquitoes upon contact. The times of these mistings are typically set to daybreak and evening, when mosquitoes are most likely to be active. This system can also be activated remotely, if needed.
Since we manage and maintain every aspect of the mosquito misting program here at Reynolds Pest Management, this treatment option is offered as a monthly service in order to allow your pest control technician to check the lines and refill the tanks on a regular basis. Additionally, all the equipment we utilize in this service is fully warrantied.
HOA & Commercial Mosquito Control
For more larger scale mosquito control needs, our team here at Reynolds also offers services for Homeowners' Associations, apartment complexes, community ponds and lakes, and other commercial properties. Our commercial mosquito control services include one-time mosquito misting, mosquito misting systems, aquatic pest control, and more!
Say Goodbye To Pesky Mosquitoes!
With our variety of different professional mosquito control options, you're sure to find a treatment plan that fits your needs. To set up an initial inspection with us, give the professionals at Reynolds Pest Management a call today. Soon you'll be saying goodbye to pesky mosquitoes and hello to days and nights spent enjoying the outdoors!
Request Your Free Inspection
Complete the form below to schedule your FREE inspection today!