When You Live In Florida, Termites Are Not A Matter Of If, But When!
Here in South Florida, the warm, sunny climate provides termites with exactly what they need to survive and thrive on our properties. So if you haven't already had to deal with these destructive pests, then it's only a matter of time. And since termites do most of their work either underground or hidden within the walls of your home, the damages they cause within your home or business can become extensive before you even realize that you're dealing with a termite problem which is why taking preventative measures is the preferred method of termite control! Whether you want to take preventative measures or you suspect that termites have already invaded, Reynolds Pest Management offers a variety of treatment options to protect your home and business against the threat of these wood-destroying pests in Jupiter, Port St. Lucie, and the surrounding locations.
The Sentricon® System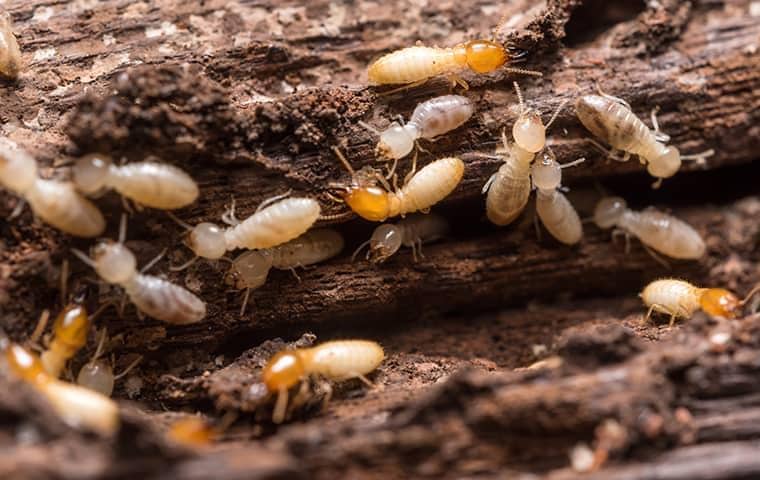 Here at Reynolds Pest Management, we are proud to be one of Florida's only pest control companies that is authorized to install and operate the Sentricon System® with Always Active™! The installation process goes as follows:
Inspection
One of our certified and experienced technicians will inspect your home and property for signs of termites activity and termite damage. That technician will also look for areas around your home that may attract termites to your property or make your home or business more susceptible to an infestation.
Installation
Next, our certified technician will strategically place Sentricon® bait stations around the perimeter of your home in strategic locations. These bait stations contain a cellulose compound that is proven to be more attractive to termites than the wood of homes and other structures. Once the termite workers take the bait, they will alert other termites to the food source as well as bring it back to the nest, allowing the Sentricon® System to effectively eliminate the entire colony.
Monitoring
The Sentricon System® with Always Active™ not only takes care of existing termite colonies, but also monitors for new termite activity on your property which allows for continued protection against the threat of termite infestations by detecting and eliminating any invading termite colonies that make their way onto your property.
Termidor®
In addition, we also offer Termidor®, a reliable form of liquid termite control. This treatment is applied along the foundation of homes and buildings to create an invisible and undetectable barrier. This barrier doesn't deter the termites but instead eliminates the termite workers when they encounter it and begin feeding on it. Termidor® features Transfer Effect technology which means once a termite encounters the liquid, they become "carriers" and transfer it to other termites, effectively eliminating the entire colony.
Termite Tent Fumigation
When drywood termites strike, our team of professionals here at Reynolds Pest Management can eliminate them from your property through our termite fumigation services. For drywood termites, we offer both tent fumigations and tape and seal fumigation. And when fumigation is necessary, we'll first inspect your home to determine which of our services is required to solve your termite problem. Additionally, we'll carefully measure your home in order to quote you the lowest price possible for your fumigation service!

During the fumigation process, we'll tent or tarp your house or use the tape and seal method, then fill it with sulfuryl fluoride, an odorless and tasteless gas that can permeate the walls of your home and effectively eliminate all the termites inside. Our technicians are carefully trained in all fumigation techniques to ensure proper and safe application.
Quality Termite Inspections
If you're buying a new home, getting a termite inspection before closing the deal is essential. Even if you've lived in your home for years, Florida residents are encouraged to get a termite inspection once a year to ensure that termites haven't invaded their home without their knowledge. The earlier you discover a termite infestation, the better your chances are for a less costly resolution to your termite problem. Here at Reynolds Pest Management, we offer termite inspections performed by licensed termite inspectors to give you the peace of mind knowing your home is termite-free. These inspections can be completed within a few hours and can save you thousands of dollars in the long run.

Don't let termites catch you by surprise. Instead, reach out to Reynolds to set up your termite inspection and learn more about the benefits of installing the Sentricon System®!
Request Your Free Inspection
Complete the form below to schedule your FREE inspection today!