Fire ants in South Florida
South Florida is a haven for many dangerous pests including Fire Ants. Fire ants are abundant and found in almost all untreated yards throughout the area. In fact even visitors are warned about fire ants and are urged to stay clear of their nests.
About Fire Ants
Fire ants are well-known for their agonizing, burning stings that cause pustules and intense itching, which can persist for up to ten days and even longer in those who are sensitive to the poison within the fire ants bite. If the pustules are broken, infections might occur. Some individuals also have allergic reactions to fire ant stings. Besides striking locals, fire ants also attack animals, livestock, and also wild animals. Native to South America, fire ants are taken into consideration an invasive species in Florida. These hostile pests are reddish-brown to black and from one-eighth to one-quarter of an inch long.
Fire ants are social, colony-forming pests. Locating a fire ant mound is simple. Their mounds look like sand piles in the yards. Many times the fire ants will build their nest underneath driveways or along side walks. A mature fire ant colony could include over 200,000 biting ants.
Fire ants are omnivorous and also eat a wide range of plant as well as pet product. They are active killers and scavengers, consuming any sort of live insects they are able to capture in addition to dead bugs.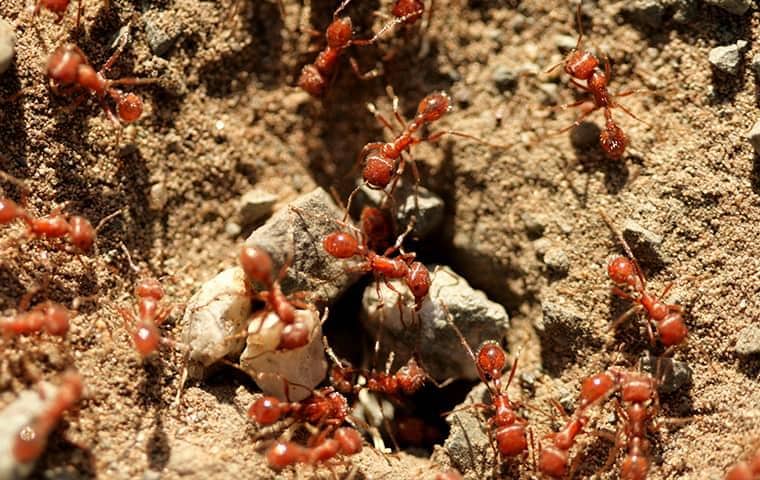 How to Prevent Fire Ants in your Yard
Not many homeowners or Florida residents have been successful in eliminating fire ants from their property without help from a licensed pest control company. Fire ants are very tough pests and do not die easily. The right product must be used and applications must be performed according to the directions in order to achieve effective results.
Reynolds Pest Management, Inc. is very familiar with Fire Ant control throughout Florida. After 25 years of dealing with fire ants on Florida homeowners properties, Reynolds Pest knows to stick with the best EPA approved fire ant controlling products as well as the recommended application processes.
TopChoice pesticide gives single-application control of fire ants for as much as a complete year. This item regulates existing nests along with protecting against new or future fire ant infestations. Reynolds Pest Management, Inc is a licensed and certified TopChoice Specialist that is available from Melbourne to South Florida including Miami-Dade county.
Reynolds Pest Management, Inc. is available to provide you an assessment on your property to determine if TopChoice is the best solution to your Fire Ant outbreaks. If you are opting for the best fire ant control application, TopChoice would be applied once a year to your property and continues to work and eliminate fire ants for a whole year. Spring is officially here, having your yard treated now with TopChoice is beneficial as helps prevent fire ants before they begin to intrude in your lawn. Contact Reynolds Pest Management, Inc. to schedule your fire ant inspection to determine if TopChoice is the best choice for you.